The ERA-LEARN consortium is supported by an Advisory Board. It consists of 10 experts from 8 countries. Every 6 months, the Board comes together to discuss past and newly planned ERA-LEARN activities and support the project by giving valuable advice and new ideas.
---
Maarja Adojaan (Estonia)
With background in molecular biology, Dr Adojaan has been active in research policy and strategic planning since 2011. She has worked on various positions in Ministry of Education and Research and twice as national expert in the European Commission - in the ERC EA and DG RTD. Currently she is working as the Head of International Research Cooperation Department in Estonian Research Council and is responsible for designing and implementing various internationalization related activities and support measures. She is National Coordinator of Estonia's H2020 NCPs, member of the EOSC Sustainability WG.
---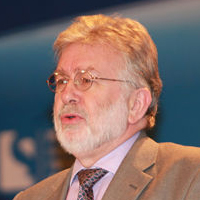 Ken Guy (United Kingdom)
Ken Guy is currently the Director of Wise Guys, a company specialising in innovation policy research and analysis and the provision of policy advice. He has over 40-years' experience in the field, including positions at OECD, where he was Head of the Science and Technology Policy (STP) Division from 2012-15, and the European Commission, where he was a member of the Innovation Union Task Force responsible for producing the Innovation Union Communication in October 2010.
---
Jennifer Cassingena Harper (Malta)
Dr Harper's area of expertise is Research and Innovation Policy in transition economies and foresight. She has coordinated EU Framework Programme projects and studies in this area and has participated in EU tenders. She has been active at European and international level serving on a number of EU DG Research High Level Expert Groups, including the EU DG Research Expert Group on Strategic Foresight in Research and Innovation (2016-7), DG Regio Cities Foresight (2010), the Lisbon 3% Objective (2009), RD4SD (2009), ERA Rationales Group (2007), EU SCAR Foresight HLG (2006), the EU HLG on Key Technologies (2005). She has been a member of the JRC FTA Committee and recently completed a JRC study on scenarios to address SDGs. She currently acts as expert, evaluator, reviewer and observer on H2020 programme, covering joint programming, security and EIC.
---

Duncan Jarvis (United Kingdom)
Duncan Jarvis is the General Secretary of EURAMET, the European Association of National Metrology Institutes. He was previously the Programme Manager for EURAMET's European Metrology Research Programmes. He has been responsible for the implementation of the programmes from organising the calls to final audits. He built up, and led, the Management Support Unit for the programmes and established all the processes needed for the successful implementation.
---
Daria Julkowska (France)
Daria Julkowska is the Assistant Director of the Institute of Genetics, Genomics and Bioinformatics at INSERM. She coordinates the European Joint Programme Cofund on Rare Diseases (EJP RD) that brings together 130 institutions from 35 European, Associated countries and Canada. Previously, she was the scientific Coordinator at ANR responsible for the management of several EU and international funding programmes including the ERA-Net E-Rare. She developed and put into action a set of collaborations facilitating rare diseases research, including partnerships with EU Research Infrastructures and Patients' Organizations. She has an extensive knowledge of the European funding schemes and programmes. Since February 2017 she serves as the chair of the Funders Constituent Committee of IRDiRC.
---
Emmanuel Pasco-Viel (France)
Emmanuel Pasco-Viel is a policy officer at the French Ministry of Higher Education, Research and Innovation. He is dealing with European policies for research, notably the ERA, the Framework Programme and the COST programme, as well as some transversal issues such as Open Science, Citizen Science/RRI and Research Integrity. He is particular involved on topics related to partnerships and Joint Programming. He was member of the ERAC ad-hoc group on partnerships, as well as Vice-Chair of the GPC for three years, and is now Chair of the GPC since March 2019.
---
Ben Ruck (Netherlands)
With a background in business economics Ben Ruck has worked in various ICT related areas as a policy adviser in the Ministry of Economic Affairs for 36 years. Since 1997 he has been active in the field of micro- and nanoelectronics. As Dutch public official he is involved in the development, implementation and monitoring of European and intergovernmental industrial research programs. This concerns in particular the EUREKA nanoelectronics cluster project PENTA and the Joint Technology Initiative (JTI) ECSEL, focusing on electronic components and systems. Since 2014 Ben Ruck has held the position of Chairperson of the ECSEL Public Authorities' Board, the group of more than 25 participating countries and the European Commission who jointly decide on the funding of ECSEL projects.
Learn more about the ERA-LEARN project and the Consortium